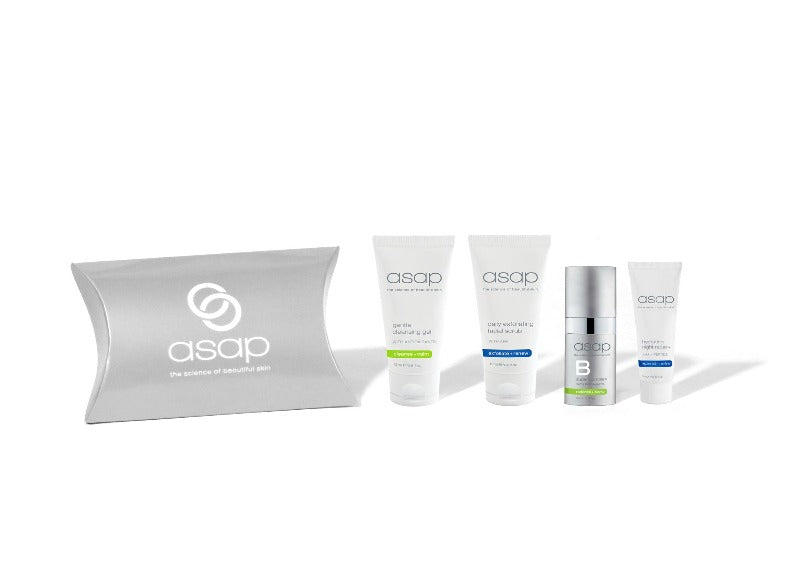 Discover Me asap Kit - Limited Stock
Discover Me Kit - Whilst stocks last! Limit 1 per customer.
*This item is not intended for sale by current stockists. This price includes GST.
The perfect introductory discovery kit to our asap skin products range. The kit contains a collection of asap's top products in easy to use sizes. For first time users this kit is a must!
Kit contains:
Gentle Cleansing Gel 15ml
Formulated to gently and thoroughly cleanse the skin of makeup and impurities in one step, while maintaining the skin's natural moisture balance. Contains powerful antioxidant White Tea and healing Aloe Vera to calm and soothe.
Daily Exfoliating Facial Scrub 15ml
Formulated to dramatically improve the appearance and texture of skin. Biodegradable, non-plastic exfoliating beads combined with AHAs, gently remove dead skin cells to promote a smoother, more radiant looking skin.
Super B Complex 5ml
Infused with a powerful blend of vitamin B3 (Niacinamide), B5 and B9 to boost collagen production whilst reducing pigmentation, acne and scarring. With high levels of AHA and active ingredients including Resveratrol, that significantly boost skin hydration, the serum helps to regulate sebum production, improve skin tone whilst visibly reducing the appearance of fine lines and wrinkles.
Hydrating Night Repair+ 5ml
A moisturising skin renewal treatment containing AHAs, innovative peptides and a powerful combination of antioxidants to help protect against free radical damage while strengthening collagen and elastin production to promote smooth, hydrated and a more youthful skin appearance.