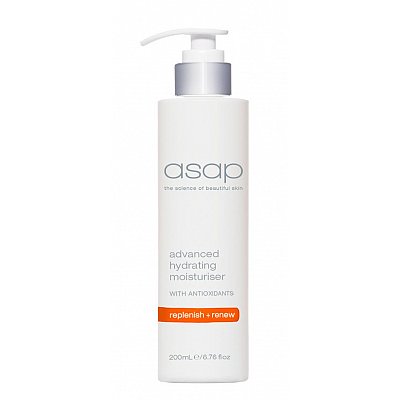 ADVANCED HYDRATING MOISTURISER 200ML
Please visit your local stockist to purchase this product online or in-store.
Find a stockist
Replenishes moisture levels and re-energises skin cells. With powerful antioxidants, Vitamin C, CoEnzyme Q10, Green Tea, Noni Fruit and Ceramides to help prevent free radical damage and reduce the visible signs of skin ageing. Ideal for normal to dry skin types.
Benefits
Contains powerful vitamins, antioxidants and ceramides to stimulate collagen production and repair skin.
Protects against free radical damage and helps increase moisture levels.
CoQ10 revitalises the skin cells and strengthens the skin's capillary network.
Regular use helps reduce the appearance of ageing, sun damage, fine lines and wrinkles.
The lightweight formulation, containing tangerine oil, is quickly absorbed.
Helps protect against the damaging effects of daily pollution.
Suitable For
All skin types, excluding acne.
Directions For Use
Apply morning and night to clean dry skin.
Key Ingredients
Vitamin C
CoEnzyme Q10
Green Tea
Ceramides